Our Company
A strong Team with strong Principles.
For a production to be 100% flawless, it needs a strong team with clear ideas and principles as well as joint energy to put things into reality.
The values that our company builds on are recognizable in all our products. Our constant strive for the best results is our recipe for success and we are proud to have a positive influence on our immediate region.
ENGEL Präzisionsprofile GmbH
We are a Swabian family business with strong roots in the region. We are proud to be located in Neustetten (Stuttgart region, Baden Württemberg) and thus in one of the five largest metropolitan regions in Europe.
Customers all over the world appreciate the high quality standards that we as a metal processing company set for our products (delicate metal profiles). We supply a wide range of industries such as electrical and assembly industry, construction industry, vehicle and furniture industry, air-conditioning technology, household appliances and canteen kitchen industry, special machines and plant construction, printing industry, storage technology, telecommunications, aviation and other industrial sectors.
Core Values
Since ist foundation in 1989 there have been tow important principles for ENGEL Präzisionsprofile GmbH: Precision and customer satisfaction. In ordert o live up to these principles and at the same time to meet the demands of a challenging market which has more and more been influenced by global developments, we have to fulfill important requirements without making compromises.
Thanks to our many years of experience in the production of precision profiles, in which we rely on the ENGEL Productivity System EPS, as well as constant further development and the use of high-tech machines, we can guarantee our customers worldwide the highest quality and fair pricing – and at the same time produce efficiently, environmentally friendly and resource-saving.
Last but not least: Working and acting environmentally friendly is not only a label we put on our chest, it's what we put into living – in each and every area and step of our daily work.
What our Employees profit from
The company is build on a strong team of qualified employees, some with more than 30 years of profiling experience. Such expertise and loyalty is priceless. Employee satisfaction is correspondingly important to us. As a medium-sized employer in a fast-growing and sophisticated industry, we offer our employees a secure and long-term permanent position with performance-related pay and, of course, additional benefits.
In addition, our employees appreciate the friendly working atmosphere, the compatibility of family and work, joint activities outside the company, their exciting range of diverse tasks, the work for national and international customers and, last but not least, the professional advancement, which means a constant increase in knowledge and the development of their own careers through continuous internal and external further training (e.g. at the IHK Academy Reutlingen).
Job offers
Can you identify yourself with our core values? Do you feel addressed by our way of working and want to become part of our team of experts?
We are in the process of further strengthening our growth in recent years and are therefore looking for qualified and motivated employees. Start tomorrow with us!: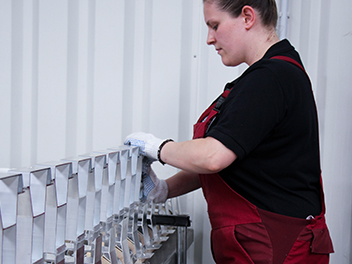 Produktionshelfer/in (m / w / d)

Chronik
2019
Tobias Schimpf takes over the management on 01.03.2019. Thus the company gains a young, dynamic and committee partner and managing director, who takes on this responsible task with high motivation and all necessary respect.
2017
Successful execution of the 2nd surveillance audit by the globally active certification company KIWA. At the same time successful changeover to the new standard revision DIN EN ISO 9001:2015 for the complete scope of our company: production of precision metal profiles and component parts.
2014
ENGEL Präzisionsprofile GmbH celebrates its 25th anniversary in 2014 and receives a certificate from IHK Departement Reutlingen | Tübingen | Zollernalb.
2011
Award "TopRating 1" by Hoppenstedt. ENGEL celebrates 40th million meter in a row without any mistakes!
2010
Successful business handover to Mathias Engel.
2008
Receiving once again the "Tyco Award" as best supplier for Tyco Electronics.
2007
Innovations in production: Processing of nuts in the metal profiling process is now possible.
2005
Category A supplier for Daimler, BMW, and others
2004
Extension of commercial property to a total of 6.200m².
2003
Innovations in production: Clinching in the profiling process and profiling of spring steel now possible.
1998
Move to our won production facility in Neustetten.
1996 – 2005
Top five supplier for Tyco Electronics.
1994
First certified company in our industry as metal working company (DIN EN INSO 9002 8/94).
1989
Foundation of the company in Esslingen-Holzmaden (near Stuttgart) by Mr Dipl.-Ing. (FH) Max Engel and Mrs Gabriele Engel.