ALWAYS UP TO DATE
News about the company.
Current certificates and awards speck for the quality of our products and our productive processes.
We remain in motion and continue to develop.
Follow our current status here.
New customer addition
Currently we are proud and happy to count the company "KMU LOFT Cleanwater GmbH" among our customers.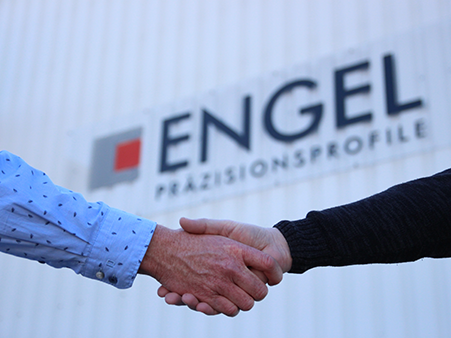 Takeover MONTATEC
After more than 30 years, Mr. Dietrich Beller will hand over his customers to Engel Präzisionsprofile GmbH on April 1, 2020. With the takeover of MONATEC by ENGEL, the individual strengths of both companies can be combined.
A further new business segment with an extended service and product portfolio will be created at ENGEL Präzisionsprofile GmbH on a national and international level.
Now the production of technically demanding small to large series as well as small- and large-series-assembly and the mechanical finishing and adaptation of metal and non-metal parts are also part of our spectrum. We are pleased about the successful completion of the business takeover and assure our new customers a constant high quality, delivery punctuality and reliability at competitive prices within the framework of the highest possible continuity. Mr. Dietrich Beller will now devote himself to other activities, but he will support us as an external consultant with advice and assistance.
Developing the existing with passion and drive.
Everything is in motion, including our company and our employees. Movement always brings about change. There will also be a change in the management of ENGEL Präzisionsprofile GmbH. After thirty years of activity in the management of Mrs Gabriele Engel, who is also a co-founder of ENGEL Präzisionsprofile GmbH, there will be a change in ownership and management on 01.03.2019.
With the takeover of Mr Tobias Schimpf, the company has gained a young, dynamic and committed partner and managing director, who is highly motivated and respectful in taking on this responsible task.
Mr. Martin Orlik, who has been loyal to the company for 25 years as an authorised signatory, will continue to support the company under the leadership of Mr. Schimpf. Mr. Orlik's rich wealth of experience, both in technology, quality and in the commercial field, will be of great importance for future challenges.
Mr. Schimpf will lead our company into the future as usual, at the same demanding level of quality and customer-oriented, and strengthen and expand its market position. With customers, business partners and suppliers, we will continue and further consolidate our good partnership cooperation. The professional experience he has gained in various areas will bring new momentum to our company. This will benefit customers, business partners, suppliers and our entire company with all employees.
Nothing will change for you as our customers, business partners and suppliers. You can continue to rely on our high commitment, the usual high quality and the high delivery performance with short distances and high flexibility as well as on your direct contacts.  We would like to thank you for your loyalty and trust in the past decades and start together with you into a successful future!
KIWA Certificate
Successful execution of the 2nd surveillance audit by the globally active certification company KIWA. At the same time successful changeover to the new standard revision DIN EN ISO 9001:2015 for the complete scope of our company: fabrication of precision profiles and component parts.
Celebrating 25 years of production
In 2014 ENGEL Präzisionsprofile GmbH has been in existence for 25 years and receives a certificate from the IHK Departement Reutlingen I Tübingen | Zollernalb.
Top-Business-Partner 2012
ENGEL Präzisionsprofile GmbH made it once again to the top of the ranking of the rating agency Hoppenstedt, Hamburg. The agency again rates ENGEL Präzisionsprofile GmbH's business processes and CreditCheck with the best credit rating index of 1.
ENGEL Präzisionsprofile GmbH is thus again among the 3,3%of the best 4,7 million companies in Germany.